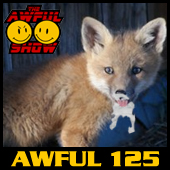 Episode Number: 125
Title: "Rabid Like The Fox"
Recorded: 7 November 2008
Run Time: 2:44:05
File Size: 77.0 MB

Description/Details
Edit
We were a Joel shy of a full set tonight, but we soldiered through and managed to pull off a wholly adequate show complete with your emails, news, an interview, and the SYN of "fire down below".
We had a lot of new listeners join us over the last couple weeks. NEW FOLKS: Do us a favor and hit us with an iTunes comment and put your dot on our fan map. Welcome to the madness!
BWAHAHAHAHHAHAHAHAHahahhahahahahahaha! Hah...ha.
Comedian, Author, Guru, Mat Zo
Nerraux News
Edit
Coming Soon.
Questions
Edit
Coming Soon.
Coming Soon.
Battle Stance by ZeaLouS1
Operation N313 by Madhatter
Fanny Pack by Rappy McRapperson
Because I Can by Muck Sticky
Something About Obama (2:00)
Show 125 Introduction (5:14)
How Was Yer Week - Nerraux (5:40)
How Was Yer Week - Keyz (2:16)
How Was Yer Week - Tha Mike (16:17)
The Mail...The Mail's Here! (22:31)
Voicemails, We Take Your Voicemails! (9:28)
Battle Stance - ZeaLouS1 (3:50)
Nerraux News (25:39)
Operation N313 - Madhatter (3:23)
A Momentary Lapse with Joel (1:23)
Mat Zo Interview (16:09)
Fanny Pack - Rappy McRapperson (4:41)
Screw Your Neighbor - Round 1 (15:15)
Screw Your Neighbor - Round 2 (14:31)
Show 125 Closing (2:42)
Because I Can - Muck Sticky (3:58)
Show 125 Aftershow (8:50)
Ad blocker interference detected!
Wikia is a free-to-use site that makes money from advertising. We have a modified experience for viewers using ad blockers

Wikia is not accessible if you've made further modifications. Remove the custom ad blocker rule(s) and the page will load as expected.