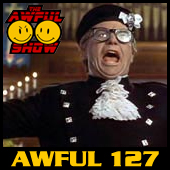 Episode Number: 127
Title: "We Have A Piper Down!"
Recorded: 21 November 2008
Run Time: 2:26:46
File Size: 68.9 MB

Description/Details
Edit
We were one Tha Mike shy of a full crew. We tried to fill some of the void with a Seamonkey, but it's never the same without The Man. Regardless, we talked about what's going on in the world, we did the news and Miah joined us for a Battlestar Galactica Awful Showdown.
We missed out on being able to talk to Epic1 this week about his new projects, but we will catch up with him in an upcoming show.
Nerraux News
Edit
Coming Soon.
Questions
Edit
Coming Soon.
Coming Soon.
Little Mac's Confession by Game Over
24 Inch Rims Spinning by Rappy McRapperson
Biff Tannen by Jake Palumbo
Baby Stop Crying by Vagina Waterpark
An Arbitrary Introduction (0:21)
Show 127 Introduction (5:47)
Slacker Jedi Twilight Review (4:35)
A Brief iTunes Review (1:30)
How Was Yer Week - Keyz (3:53)
How Was Yer Week - Seamonkey (7:45)
How Was Yer Week - Joel (7:44)
How Was Yer Week - Nerraux (3:36)
The Mail...The Mail's Here! (15:40)
Know Your Bros - Favorite Music (4:01)
Know Your Bros - Sports Moments (7:42)
More Listener Mail (1:31)
Voicemails, We Take Your Voicemails! (14:35)
Little Mac's Confession - Game Over (4:49)
Nerraux News (20:07)
Biff Tannen - Jake Palumbo (3:57)
A Momentary Lapse with Joel (2:23)
Battlestar Galactica Showdown (10:59)
24 Inch Rims Spinning - Rappy McRapperson (5:42)
Thanksgiving Plans (11:19)
Show 127 Closing (3:11)
Baby Stop Crying - Vagina Waterpark (4:32)
Show 127 Aftershow (0:55)
Ad blocker interference detected!
Wikia is a free-to-use site that makes money from advertising. We have a modified experience for viewers using ad blockers

Wikia is not accessible if you've made further modifications. Remove the custom ad blocker rule(s) and the page will load as expected.