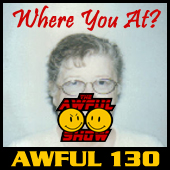 Episode Number: 130
Title: "Where You At?"
Recorded: 12 December 2008
Run Time: 2:29:01
File Size: 69.9 MB

Description/Details
Edit
Once again, back in full force and ready to talk about all the stuff going on in our lives and in the world. We had some Know Your Bros questions, a fun interview, and a game of Relative SYN hosted by a sicknes crippled Keyz.
Mike Errico stopped by to talk about the music industry, his projects and his work with Blender magazine. He's a kindred spirit to be sure, and I would expect to see him back on the show in the future. Listen to find out how to get free swag!
Nerraux News
Edit
Coming Soon.
Questions
Edit
Coming Soon.
Coming Soon.
Lean Christmas by Devo Spice
Afflicted by Age of Daze
Please Stop Leaving by Mike Errico
Ten Minutes by The Get Up Kids
Making Fun of Obama (1:27)
Show 130 Introduction (3:34)
How Was Yer Week - Nerraux (8:55)
How Was Yer Week - Joel (1:31)
How Was Yer Week - Keyz (3:46)
How Was Yer Week - Tha Mike (14:26)
The Mail...The Mail's Here! (10:40)
Voicemails, We Take Your Voicemails! (5:25)
Lean Christmas - Devo Spice (3:41)
Nerraux News (21:35)
Dr. Fuck (2:02)
Afflicted - Age of Daze (3:37)
A Momentary Lapse with Joel (1:12)
Mike Errico Interview (25:49)
Please Stop Leaving - Mike Errico (5:12)
Screw Your Neighbor - Round 1 (9:30)
Screw Your Neighbor - Round 2 (9:58)
Show 130 Closing (1:23)
Ten Minutes - The Get Up Kids (4:20)
Show 130 Aftershow (10:43)
Ad blocker interference detected!
Wikia is a free-to-use site that makes money from advertising. We have a modified experience for viewers using ad blockers

Wikia is not accessible if you've made further modifications. Remove the custom ad blocker rule(s) and the page will load as expected.