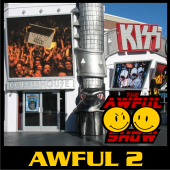 Episode Number: 2
Recorded: 30 June 2006
Run Time: 2:02:55
File Size: 57.7 MB

Description/Details
Edit
Well, show #2 is in the can. It's better than the first one, and holds promise to get even better for the third one. Stresses at work and home kept us from working up any 'bits' this week, but we did get our Skype connection resolved, so we managed some calls that turned out pretty well.
Thanks for your comments and for passing the word along! We had over 100 downloads for the first week, and we hope for even more this week. Keep sending your thoughts, topic and music ideas, and send us your info if you want us to give you a call on an upcoming show.
If you have a moment, rate us in iTunes (or whatever other service you download from). It's the best way to help us get the word out.
Thanks Keyz and KSweeney for adding to our show! Look for more great characters in weeks to come.
News and Topics
Edit
Star Jones
KISS Coffee Houses
Cell Phone Breathalyzer
Lapdance by N.E.R.D.
Mmm Mmm Mmm by Crash Test Dummies
Uncle Fucker by South Park
Super Bon Bon by Soul Coughing
Counting the Days by Goldfinger
Wish I Was Queer by Bloodhound Gang
Capital by Rockapella
Satisfaction by Benni Bennassi
Love Dump by Static X
Walkie Talkie Man by Steriogram
Itchy, Scratchy & Poochie by The Simpsons
Flaming Moe's by The Simpsons
Right Here, Right Now by Ice Cube
Coming Soon.
Ad blocker interference detected!
Wikia is a free-to-use site that makes money from advertising. We have a modified experience for viewers using ad blockers

Wikia is not accessible if you've made further modifications. Remove the custom ad blocker rule(s) and the page will load as expected.