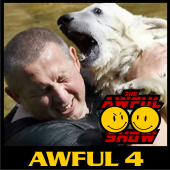 Episode Number: 4
Recorded: 14 July 2006
Run Time: 2:11:00
File Size: 61.5 MB

Description/Details
Edit
Damn, this is getting fun! Maybe it was the caffeine I consumed tonight, maybe it's the fact that I was listening to The Urge on the way over to the studio, maybe it was just the perfect alignment of the stars. Regardless, the fact is, we had a killer show! This is the one that sets the standard for all others to come. It's a little lewd in places, a little silly in others, but there is no argument that we're finally coming into our own.
Download it, give a listen, and let us know what you think. Either e-mail us or go to http://awfulshow.blogspot.com (no longer valid) and leave a voice message for us. Either way, we appreciate the feedback, and we want to know if you're having as much fun listening as we are making it for you.
That's it for now. If you like the music (which was also a step better this week, by the way), consider spending the buck to buy it from iTunes from the links on the left. We get a nickel, which we promise to put toward making the show even better.
News and Topics
Edit
Li'l Kim gets out of jail
New words in the dictionary
The Playboy Advisor
Tha Mike hosts a game of "Name That Celebrity".
Questions
Edit
Alphonso D'Abruzzo
Patricia Andrzejewski
Albert Einstein
John Francois Bongiovi
Nathan Birnbaum
Jacob Cohen
Robert Zimmerman
Steveland Judkins
Ramon Estevez
Caryn Johnson
Alan Alda
Pat Benatar
Albert Brooks
Jon Bon Jovi
George Burns
Rodney Dangerfield
Bob Dylan
Stevie Wonder
Martin Sheen
Whoopi Goldberg
The Fuck Shop by 2 Live Crew
Girls by Beastie Boys
New Age Girl by Dead Eye Dick
Boys and Girls by Good Charlotte
Feel Good, Inc. by Gorillaz
Suck it Up by (hed) P.E.
Been Caught Stealing by Jane's Addiction
High-Fivin MF by Local H
Terrible Lie by Nine Inch Nails
Rape Me by Richard Cheese
Hash Pipe by Weezer
Constipated by "Weird Al" Yankovic
Coming Soon.
Ad blocker interference detected!
Wikia is a free-to-use site that makes money from advertising. We have a modified experience for viewers using ad blockers

Wikia is not accessible if you've made further modifications. Remove the custom ad blocker rule(s) and the page will load as expected.