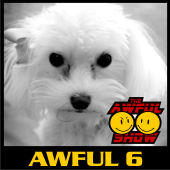 Episode Number: 6
Recorded: 28 July 2006
Run Time: 2:30:20
File Size: 70.6 MB

Description/Details
Edit
I have to tell you, kids, Mike and I both had kinda "off" weeks. We didn't have as much planned for this show as we usually do. All-in-all, we really weren't expecting much from this show. But once we got rolling, it went VERY well. I'm not going to ramble about it too much right now, just give it a listen and see if you agree that this is the best one yet. It ran long - about a half hour longer than usual - but we don't think you'll be sorry to hear it.
Thanks to all of you who have supported us this far! If you can take a minute, go to 2guystalking.com and download the demo they have posted for us there. If you like it, go to lunchtimegab.com and vote for us to become members of their network. It would mean more exposure, which would mean more listeners, which means that we can keep doing better shows for you.
News and Topics
Edit
Coming Soon.
Questions
Edit
Coming Soon.
Coming Soon.
Ugly by Bubba Sparxxx
My Town by Buck O' Nine
Stricken by Disturbed
Bodies by Drowning Pool
Entropy by MC Hawking
Get Naked by Methods of Meyhem
Fucking Hostile by Pantera
She Has a Girlfriend Now by Reel Big Fish
Karate by Tenacious D
Possum Kingdom by The Toadies
Coming Soon.
Ad blocker interference detected!
Wikia is a free-to-use site that makes money from advertising. We have a modified experience for viewers using ad blockers

Wikia is not accessible if you've made further modifications. Remove the custom ad blocker rule(s) and the page will load as expected.