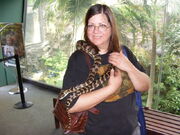 Of all the fans of The Awful Show, there is perhaps none who is as fond of chickens - especially FUCKING chickens.
Hahney, fka Spank-Ex ("Spanky" as Tha Mike says), fka The Evil Ms. J has been known to record songs of chickens singing various songs such as "Stars and Stripes Forever," The Tetris Theme, "Happy Birthday to You" and "Taps."
Formerly married to Evil J Winter, she went a little insane and went down under in March and May of 2008 for a fling with other fan, Killa Willba. Hahney has since become quite fond of women, for some reason, most especially Sexy Sadie and all the other sexy women who listen to the Awful Show.
She butts heads occasionally with Tha Mike, but it's all in good fun. Check out Hahney, who is commonly holding an afterparty on her Stickam site: http://www.stickam.com/hahney after the Friday night show. She is also commonly on Facebook - send a friend request to Diane Hahney. She currently resides in a little town east of Cincinnati, Ohio. Oh, and she has really big tits.
Ad blocker interference detected!
Wikia is a free-to-use site that makes money from advertising. We have a modified experience for viewers using ad blockers

Wikia is not accessible if you've made further modifications. Remove the custom ad blocker rule(s) and the page will load as expected.