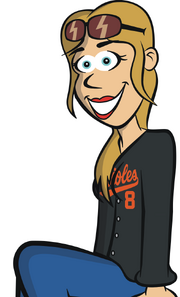 Zack's Girl Kelly (or ZGK for short) is one of the hosts of The Awful Girls snack. She was one of the contestants for Miss Awful Show which lead to "The Awful Girls" podcast. She considers it a great outlet to have fun, meet awesome people, and drink on a Thursday. She's really goofy, really fun, and REALLY good at embarrassing herself. She likes things that involve laughing, music, animals, the beach, and Cal Ripken Jr. and if it can include all of those things, she's there!
Ad blocker interference detected!
Wikia is a free-to-use site that makes money from advertising. We have a modified experience for viewers using ad blockers

Wikia is not accessible if you've made further modifications. Remove the custom ad blocker rule(s) and the page will load as expected.